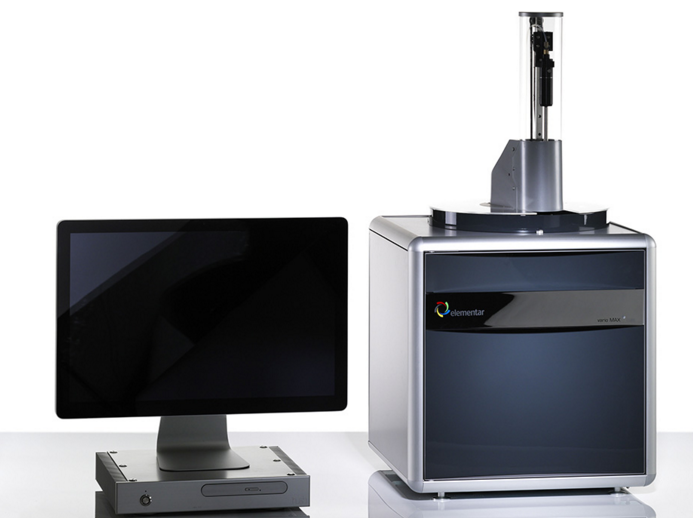 简介:
用于测定有机和大部分无机固体或液体样品元素含量的仪器(可选配液体样品密封器)。进样量为
1mg
-
1.5g
,根据不同的浓度和工作模式,可分析体积为
1cm3
的样品。基于已广为证实的
vario EL III
的平台,
vario MACRO
仪器系列是针对大称量的自然样品,如煤,泥煤,或矿物燃料,这些不均匀物质或低含量物质的检测。一次可装入样品数目可达
60
个孔位(每个可达
1ml
),或可选择
120
孔位(每个可达
150mg
)的自动进样器。氧气直接喷射注入
960
℃
燃烧管,使样品在纯氧中完全燃烧并可节省成本。通过吸附和脱附的动态分离原理,在不同的可加热的吸附柱中有效地分离各种元素。采用特别的高精度的热导检测器顺序检测各元素。高精度和重复性是通过有效的燃烧和准确的元素分离,完全燃烧气体的分析和气体流的电子控制实现的。完全燃烧过程的在线控制,可以对难燃烧样品进行精确的定量分析。用户易使用的
Windows® 2000
或
XP professional
的现代仪器软件,仪器的操作和数据计算以
PC
联机。交付的
CD
盘软件(英语或德语)含有完整维护和诊断软件:自动检漏,唤醒
/
睡眠功能,
LIMS
连接,数据直接输出到
Excel
。
1
)唯一专业的元素分析仪制造商,有着一百多年的元素分析仪制造经验。
2
)气体分离独家采用吸附
-
解吸原理。稳定时间短,开机后只需
45
分钟,待温度达到预先设定后即可进行测试,大大缩短分析时间。
3
)动态燃烧法:样品落入燃烧管时,在高温和富氧条件下发生瞬时燃烧,温度可达
1800
℃。当样品仅靠瞬时燃烧达不到完全分解时,
Vario Macro cube
也可根据样品性质采用瞬时燃烧
+
完全燃烧的方法,使样品完全分解。
4
)多功能的分析模式,可根据需要分别进行多元素同时测定或单元素测定,可选模式有
7
种:
CHNS
,
CHN
,
CNS
,
CN
,
N
,
O
,
Cl
。
6
)进样量大:最大
1.5g
,对于均匀性较差的样品,诸如催化剂、煤、土壤、农业产品、肥料、合成材料、地质样品等,需要提高进样量以消除因均匀性偏差给测试结果带来的影响。
Introduction:
Whether in coal, oil or soil analysis, the elemental analysis of macro samples is a particularly technical challenge for an analyzer. Elementar has solved this task in a sophisticated way by offering the vario MACRO cube. New technical solutions combined with well proven techniques allow the simultaneous determination of CHNS of samples up to the gram range.
Highly accurate Carbon, Hydrogen, Nitrogen, and Sulfur (CHNS) determination in coal, oil, or soil samples can be carried out using the state-of-the-art vario MACRO cube from Elementar. vario MACRO cube combines ergonomic design with top-notch technology. It is the first analyzer globally to carry out simultaneous and accurate determination of CHNS up to gram levels in a single step. This is made possible by the optimum combination of novel and established techniques.
The design of MACRO cube is both pleasing on the eye and superior in functionality. Designed in modules, this can be upgraded at any time to suit your personal requirements as well as the requirements of future.
1
)
High temperature combustion unit
Quantitative sample digestion at up to 1200 °C – with ten years furnace warranty
(1800 °C at the point of combustion when tin foil is used). This is the prerequisite for 100% recovery also with samples difficult to combust. Jet injection of oxygen directly to the sample leads to highest oxygen concentrations at the point of combustion and low gas consumption
Optimized for macro (up to 1.5 g soil) sample weight, depending on requirements up to 200 mg organic matter
3
)
Largest dynamic range of element concentrations and element ratio
Up to 150 mg C abs. or 100 mg N abs. (or 100%), from ppm to 100%
For a long lifetime in the modes CN and CHN robust steel tubes are used in the combustion and post-combustion furnace
5
)
Purge&trap Chromatography
Separation of gaseous components on up to three specific columns for perfect separation without overlap and automatic optimization of the analysis time
Stable over months and matrix independent
With a standard PC for perfect results also for unknown or heavily variable sample matrices with integrated sample feeder for 60 samples (upgradeable up to 120 pos.), 21 CFR part 11 functionality available. Possibility for remote service due to full digitalization of the instrument electronics
8
)
One basic instrument for all applications
No expensive special catalysts, easy ash removal from the combustion tube and long lifetime of all components are the basis for a low cost of ownership
The analysis only takes a few minutes, no aggressive or toxic chemicals are used, Helium carrier gas
10
)
Easy installation requirements
48
×
55 cm benchtop space, 1 power supply (230, 110, 100 V), and two gases are sufficient for maintenance free long time operation
收费标准:
中心及团队标准:0/小时;100/样品
校内标准:0/小时;200/样品
校外标准:0/小时;300/样品