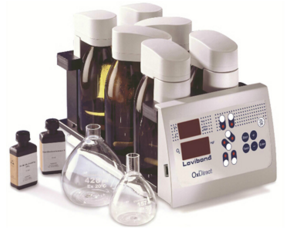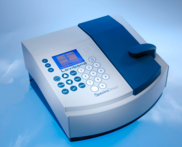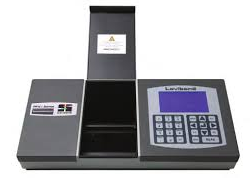 介绍:Lovibond高性能多参数水质综合测定仪,具有超大波长,可进行包括COD,余氯,总氯,总磷,总氮,氨氮,硬度,磷酸盐,硫酸盐以及铁,铜等离子浓度分析。操作快捷,优良的数据管理功能,广泛应用于环保、市政、科研、教育等领域的水质监测分析。
操作特性:
1) 内置多项预定测量程序,近120项量程指标,可快速测定浓度,吸光度
2) 330-900nm波长,波长精度±1nm,超大屏幕设计,用户友好操作界面
3) 具有用户自定义校准与自动波长扫描功能,确保测量准确性
4) COD测定采用重铬酸钾法,符合国际通用规范,高精度分析,有效避免氯干扰
5) 消解器可同时消解25个样品,快速升温,具有多档消解温度及时间设定
6) 微电脑控制技术,具有倒计时反应时间功能,人性化设计,用户友好操作界面
7) 1000组详细数据存储,RS232数据接口,便捷连接PC或打印机,便于数据管理
8) 独特设计测量槽适用于多光程比色皿
Introduction:
ET99724:The Lovibond® BOD-OxiDirect sensor system for permits exact and convenient measurement of the Biochemical Oxygen Demand (BOD) based on the respirometric principle. All results are shown in a big display directly in mg/l BOD without the need for time-consuming conversion using factors. In addition, the measuring period can be user-selected between 1 and 28 days.
The unit measures BOD levels via the pressure drop in the closed system during a defined period of time. Following measurement, the results are stored and can be called up to the display at any time. The inductive stirrer system not only mixes the sample but also ensures optimum gas exchange be-tween sample and gas space in the sample flask.
Alongside the BOD unit to determine BOD levels, a BOD system contains sample flasks, a non-wearing inductive stirrer system, overflow measuring flask to measure the sample volume, nitrification inhibitor and potassium hydroxide as an absorbent.
Features:
1) User friendly
2) Large brilliant graphic display
3) Graphical representation of measured values
4) USB & SD Card interface
5) Mercury-free, environmentally-friendly
6) Remote control
7) User-selectable time span from 1 to 28 days
8) Free individual programming of each of the six samples
9) Inductive stirring system, 110 – 240 V / 50 – 60 Hz
ET125SC:The thermoreactor will hold 25 round glass tubes with a 16 mm external diameter. It isdesigned for sample preparation in determining COD, total phosphorous, total chromiumand other parameters in water and sludge.This instrument, when combined with photometers and reagents and accessories forcolorimetric analysis, is part of a complete analytical setup capable of high precision andreproducibility, with a limited space requirement.
The instrument is highly resistant to chemical and mechanical corrosion through the use ofepoxy paint on metal surfaces. The block holding the test tubes is manufactured from analuminum alloy to ensure thermal homogeneity at all of the preset temperatures. The temperatureof the heating block is controlled by a microprocessor with PID logic. The temperatureprobe, Pt100 probe, performs a self calibration every time the instrument is turned on, toensure precision and reproducibility.Four different temperatures have been preset: 70, 100, 120, and 150°C, along with fourdifferent times: 30, 60, and 120 minutes or infinite time.The heating block is protected against overheating by a thermostat that turns off the powersupply when the temperature exceeds 180°C.
HI 88713:The HI 88713 is a high accuracy bench top turbidity meter designed to meet and exceed the requirements of ISO 7027 standard and is ideal for water quality testing.Using an infra-red light source it guarantees measurement repeatability and consistency. Variations in the intensity of the LED are also compensated for - limiting the need for frequent calibration.
Features:
1) Store up to 200 measurements in internal memory via LOG key
2) Access on-screen support via HELP key
3) Clear tutorial messaging
4) Step by step guide through the analysis process
5) Range of calibration options
6) Perform 2,3,4 or 5 point calibration using Hanna standards
7) Calibration points can be modified when user prepared standards are used
8) Complete Good Laboratory Practice (GLP) functions allow traceability of the calibration conditions
9) Wide bench top format with easy clean casing and user-friendly interface
10) Four turbidity measurement modes
11) Graphic backlit LCD display
PFXi 195/2:The instruments in the Lovibond PFXi-195 Series are efficient colorimeters for optically clear samples that meet the demand for consistent and reliable color data. These instruments automatically measure color and display the results directly according to the traditional color grading scales or in terms of the internationally recognized CIE values and spectral data.
Features:
1) Integrated RCMSi Technology for Remote Calibration
2) Automatic and non-subjective color measurement
3) Consistent data compliant with international standards
4) Very rugged, chemically resistant, steel construction
5) Easy maintenance with removable sample chamber
6) Ability to handle hot samples with high melting points
7) Extensive and flexible choice of color scales
8) Remote upgrade facility
9) Calculation and description of "off-hue" status
10) Supplied with colour control software for data analysis
11) Conformance standard, cells and spare bulb included
12) Output conforms to GLP including date, time, sample & user ID
13) Accommodates a wide range of sample cells and tubes
14) Extensive range of accessories (e.g. thermal printer)